It doesn't matter what type of playhouse your child has, you can always make it better and more exciting for your child with some of the best outdoor playhouse accessories around.
If you recently bought your child an outdoor playhouse or even if you have had one for a few years, buying some new accesories can be a great way to encourage your child to play outdoors with the toys even more.
You may not have even realized some of the fun accessories you can add to just about any play house to make it unique to your child and give them a fun, outdoor space where they can play for hours and hours.
Pretend Food and Cooking Play Set
125 Piece Ultimate Kitchen Food Set
Pretend & Play Kitchen Set
&
If your child has a playhouse with a kitchen, a set of pretend food and cooking supplies is really a must-have item.
Usually you will find that some of these toy houses do come with some items of food, but they are usually limited. If you really want to add to your child's creativity and imaginative play, you can buy them a larger set of pretend food so they can cook and cook for hours in their own space.
A simple, inexpensive set of toy food pieces can be an awesome way to help your child grow their imagination while coming up with fun concoctions.
Maybe one day they can play restaurant and the next they can be making dinner for their family. They can even share all their great food inventions with mom and dad so you can play along as well.
Personalized Playhouse Sign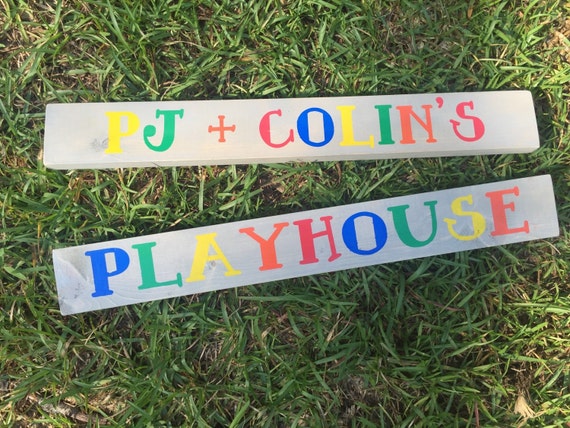 Treehouse/Clubhouse Personalized Kid's Sign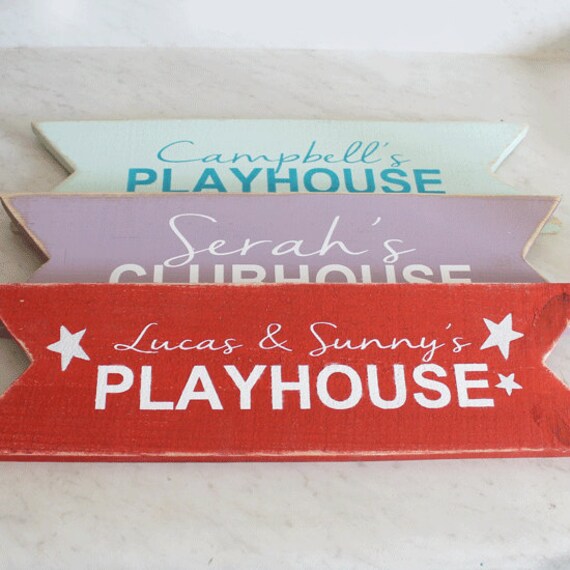 Outdoor Clubhouse Wooden Sign

&
Make your child's clubhouse their very own with a unique personalized sign for just for them.
These signs are made to be used outdoors and can be hung from the playhouse or you can hang them on a small pole in front of the house as well.
You can get the signs personalized with your child's name as well as choose from different colors for the sign.
Kid's Cleaning Toys
Melissa & Doug Let's Play House Cleaning Set
Melissa & Doug Let's Play House Cleaning Caddy
&
Make their chores a lot more fun inside their playhouse with a cool kid-sized cleaning set.
You can choose from the basic broom and dust pan as well as a caddy full of cleaning supplies.
Kids will get a kick out of pretending to clean their own home and you'll find that the kid's cleaning toys even do a halfway decent job of actually cleaning stuff.
These toys also encourage imaginative play and can be used indoors if you live in an area that gets colder in the winter months.
Kids Chairs for Outdoor Playhouse Furniture
Little Tikes Garden Chair
Melissa & Doug Folding Beach Chair
&
If the playhouse you have for your child is big enough you may want to consider some chairs (or just one chair) for inside the house.
You can find affordable plastic outdoor chairs for kids that would be perfect for inside of a larger play house.
Even if you have a smaller playhouse you could still keep the chairs outside of the house and simply store them next to the playhouse or even on your patio instead.
The Little Tikes kid's outdoor chair is available in several different colors and the Melissa & Doug chair is available in different animals and colors such as a butterfly, caterpillar, frog, and crab.
Playhouse Mailbox
Inexpensive Steel Mailbox (multiple colors)
Children's Plastic Mail Box
&
What kid doesn't love to receive mail? I know that all my kids absolutely love receiving any type of mail and would be thrilled to have their very own playhouse mailbox just for them.
You can even personalize the mailbox for your child with their name or make up a house number or address to put on their mailbox. You can use decal stickers or even paint depending on what type of box you buy.
There are a few different ways that you can add a mailbox to an outdoor playhouse.
You can place a small mailbox on a 2×4 and pound it into the ground next to the playhouse or make your own mailbox from scrap wood or plywood and attach it to the house.
You can play fun games back and forth with your child writing little letters or simply give your child some old envelopes and paper and they can play all day making up all kinds of stories.
There are all kinds of cool ways that you can add some extra fun into your child's playhouse.
These are just some of the ideas for outdoor playhouse accessories as there are other toys and decorations you can add depending on your kid's personality and what they enjoy playing with the most.
So, make the most out of your backyard clubhouse by encouraging more outdoor play with some imaginations sparking playhouse accessories.
And if you haven't found the right playhouse for your child yet, check out my recommendations for the best outdoor playhouses for toddlers.